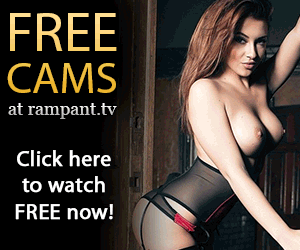 Rampant.tv offers you live streaming girls 24/7, with the special promise that there are free girls, British too, and fulfilling your every fantasy at your command. There are several channels, a bright and modern, musical tour, with all kinds of things to check out and with free registration. Inside you find Rampant Tube for videos, a Forum for member contact, and a schedule showing you who is live and when.

I have to admit, this was the first time I'd seen anything like this. A site that is made up of various elements all of which feed off a central screen and a site that comes with thumping background music to give you a pole dancing, strip-joint atmosphere, and loads of ways to watch and get involved with live shows. What you see on the tour is basically what you have in the members' area, with a central screen streaming the live shows and a column to the right holding the links to those shows. There's a schedule at the top of the page as well so you can see who is due to appear on what channel and when. 
Rampant.tv is offering us something unique: free live streaming shows where you pay to talk or get intimate, but from lots of different channels and all streaming into one members' area. You have recordings to watch as well and a great big forum to use. It all runs smoothly enough, though the stream will favour faster connections, and although it looks complicated at first, it is actually pretty easy to manage once you get used to it.


History Rampant TV
RampantTV was started as a web version of the TV show Sextstation in November 2010. The show concept is much like that of the late night "Babe Channels" that are shown on Freeview and Sky TV in the UK, where viewers at home can engage with models via a premium rate number or credit card. As RampantTV is on the web it allowed girls from TV to appear and work up to a harder pornographic level.
Rising very quickly in popularity the web channel started a forum in March 2011 for viewers to discuss the shows content, other TV shows with similar content such as; Babestation, Bluebird etc. as well as engage in general discussion. In addition to forum a live chat box was implemented for viewers to comment and interact directly with the model at no cost.
Whilst RampantTV remained the focus of the online channel in February 2012 aforementioned shows from the Sky TV were adopted too. This meant that viewers of the channel could now watch multiple feeds provided by Bluebird moving the sites concept from online TV channel to an online TV network. RampantTV are constantly adding more and more channels, and constantly growing into the UKs premier porn experience.